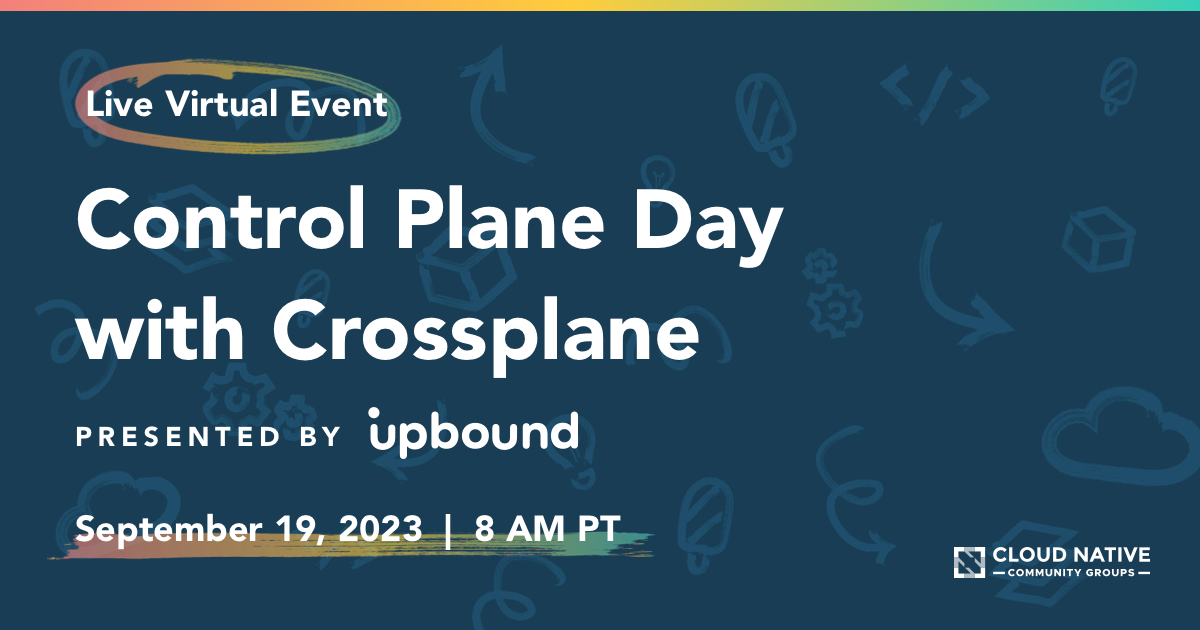 Our Crossplane community day of talks is coming LIVE online on Tuesday, September 19 at 8 AM PT/15:00 UTC!
We're excited to announce our speaker lineup for Control Plane Day with Crossplane, presented by Upbound. Join us for 120 minutes of live content from the community and project maintainers of Crossplane. Say hello to our speakers, including Kelsey Hightower, Rachel Stephens, senior industry analyst with RedMonk, Bassam Tabbara, one of Crossplane's creators and Upbound CEO, and many more from companies like AWS, VSHN, and Nokia. It will be a lively event hosted by Viktor Farcic, developer advocate at Upbound and host of DevOps Toolkit.
Our theme is Kubernetes Control Plane Liftoff 🛫, and so you'll hear talks relevant for any Crossplane level. We start with a look at the state of Crossplane at five years, discuss declarative configuration from infrastructure-as-data to infrastructure-as-code, then will get deeper for more experienced levels with topics like Crossplane observability and troubleshooting, and running composition functions in production.
Here's our lineup (subject to change):
Welcome by host Viktor Farcic, developer advocate at Upbound
Crossplane at Five Years and What's Ahead: Bassam Tabbara, CEO and founder, Upbound
Fireside Chat: Declarative Configuration: Past, Present, and Future, led by RedMonk senior industry analyst Rachel Stephens, with Kelsey Hightower and Viktor Farcic
Self-Driving Cloud Infrastructure with Crossplane, by Marco Massenzio, principal engineer, Cruise
Taming Crossplane: Practical Debugging and Observability Guide, by Christina Andonov, senior specialist solutions architect at AWS
Composition Functions in Production, by Tobias Brunner, CTO and product manager, VSHN, The DevOps Company
Q&A with the Crossplane Maintainers, including Bob Haddleton, director of R&D Innovation at Nokia, Nic Cope and Jared Watts, Crossplane steering committee members, Ezgi Demirel, senior distributed systems engineer and Crossplane expert, and moderated by Pete Lumbis, docs maintainer and expert for Crossplane
Wrap up final closing remarks by our host, Viktor Farcic

We were delighted to see so many high-quality talk submissions and thank you to everyone for taking the time to submit their proposals. After careful consideration, our maintainer committee made our selections for the community based on topics we hoped would help you most - from those early in your journeys to more in-depth intermediate levels. We hope to highlight all the other great submitted content in more ways though, so stay tuned for that.
We're excited to spend time with you live in the online community platform, supported by the CNCF. Get registered for the event, and we will see you live on September 19!
Questions about the event? Contact us or join the event channel in the Crossplane community Slack.